Newsworthy has created a feed plugin to allow WordPress websites the ability to publish Blockchain-verified press releases from Newsworthy.ai. Newsworthy registers all press releases on the blockchain through an EVM smart contract. Together with this plugin, we protect the integrity of the news that goes out over our network.
Who can use the plugin? While the plugin was designed to facilitate publishing for our partners and the self-hosting of press releases by our users, the plugin can be used by anyone running a WordPress website. The only requirement is that the plugin requires a newsworthy.ai RSS feed. Newsworthy.ai feeds have special markup that allows press releases to be blockchain verified. (For the curious who want to test the plugin, here is the primary Newsworthy.ai press release RSS feed.)
Before You Begin
Create A New User in WordPress - We recommend that you create a new author that will "Publish" the feed press releases to your site. You will need to select an author during the plugin setup. Unless you want the press releases to be authored by an existing user, it is better to create a press release" author. Some suggestions include "Press Releases", "Sponsored News", or simply "Newsworthy.ai". Creating a press release author improves transparency and eliminates confusion.
Getting the Plugin
You can download and install the plugin via one of the following two methods.
1] Direct Download
While we do not recommend direct download and upload, you can get the Newsworthy Feed plugin directly from WordPress here. The upgrade path is much easier if you install using the following method instead.
2] WordPress Plugin Install
You can also find the press release through your WordPress install. While logged into WordPress click Plugins > Add New. They search for the newsworthy plugin. That screen should look like the image below. Once you find the image, click install and follow the on-screen instructions.

Searching for the Newsworthy.ai Feed Plugin

Configure the Plugin
You configure your Newsworthy Feed plugin from the settings page.
Edit feed URL — requires a Newsworthy.ai RSS feed
Assign Visibility & Status, Select Public, and Publish to automatically publish new releases.
Edit Frequency of updates
Edit the Number of posts to go backward (You want to start with some news to avoid an empty page. Specify the number of press releases to show here.)
Assign Author - Remember that Author we recommended that you set up? Select that author here.
Select Template - If you have a specific template that you want to use with this section of your site, select it here.)
Create & Assign Tags (Optional)
Create & Assign Categories - Create a category for these press releases. Putting press releases into their own category prevents them from showing up in other feeds or sections of your site automatically. Category names like "Press Releases", "Sponsored News", "Newsworthy.ai" or "Our Press Release" provide decent transparency.
Choose a Category to Exclude Posts from the Default List - Now that you have assigned the press releases to a category, exclude them from other sections by selecting that category here.
Allows Attaching Images & Select Default Image - These settings allow you to indicate if you would like images displayed on your press release entry pages and in your index/category page. You can change the column width of the press release images. 350px wide is the default value.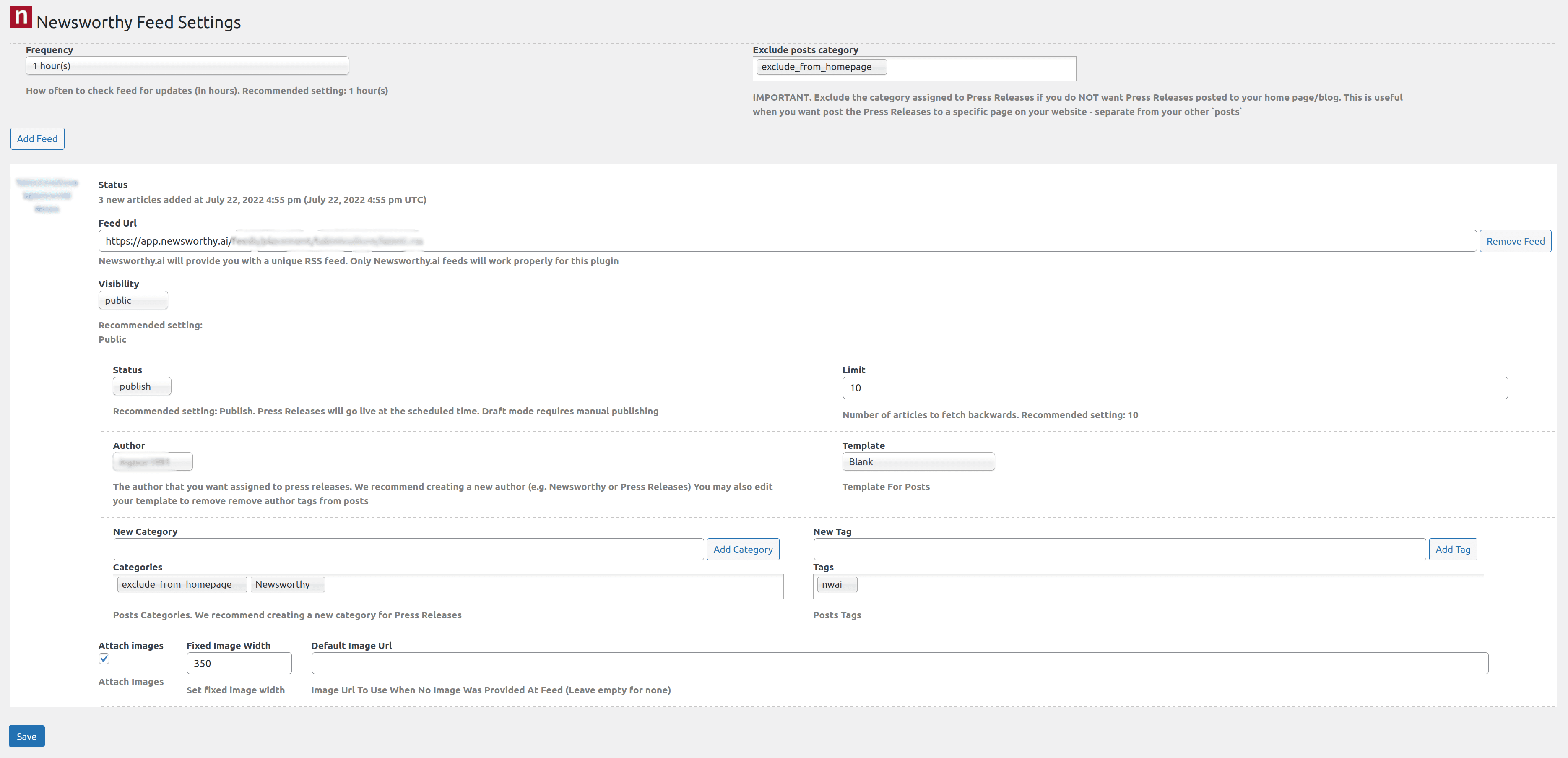 Newsworthy.ai Feed Settings Page